I have wanted to visit Barnegat Jetty (Barnegat Lighthouse State Park) for several years. Fortunately I was able to meet up with Denise Ippolito just after Christmas for a day photographing Barnegat's wonderful birds. Denise is the leader of many Barnegat Jetty workshops (she has one that starts this Friday, check her website for details) and is also the author of a very popular Barnegat Jetty Site Guide
There are hosts of birds and wildlife that call the jetty home during the winter. Harlequin Duck, Long Tailed Duck (formerly Oldsquaw), Common Loon, Red Throated Loon, Red Breasted Merganser, Surf Scoter, Black Scoter, Common Eider, and Brant. Shorebird species include; Purple Sandpiper, Dunlin, Ruddy Turnstone, Black Bellied Plover, and Sanderling . I have been told that Harbor Seals have also been seen at the jetty. The stars of the jetty for me this trip were the Harlequin Ducks.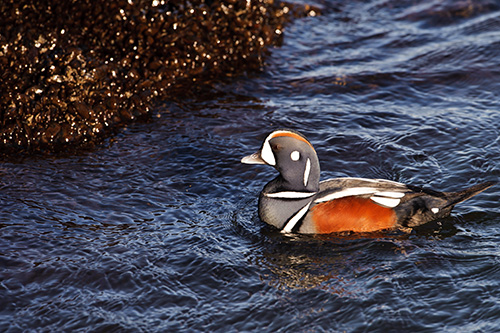 These ducks are difficult to come by during the winter unless you travel to coastal Maine where a large portion of the North American population spends their winter.
I was lucky to be able to capture some decent images given this was my first time to the jetty. Swimming images are fairly common but I am told that ducks on the rocks and good flight captures are tough to come by. I really like the flight capture below.
I will post images of some of my other captures from my visit over the coming days.
Images captured with Nikon D700, 600mm f/4 on Lexar Digital Film