Manhattan Skyline at Night
Manhattan, New York
Manhattan Skyline from New Jersey. Photo © copyright by Vincent Mistretta.
Fine Art Print - Signed, Print Only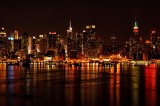 Each gallery print is personally printed by me in my digital darkroom using Epson Ultrachrome K3 Inks and Epson fine art paper. I have found that this combination offers the best museum quality prints available today.
Please note that all quoted sizes are that of the paper. The actual printed image will be smaller.
After printing, I allow your photograph to dry for several days. At that point I apply a coating to protect the print from fading. Please realize this process takes several days.
All prices include shipping.
Please refer to my prints page for more details.
Select a print size: