First of all I would like to thank everyone for the notes I have received since my return. I am feeling better and expect to make a full recovery shortly.
The itinerary for our trip was a fairly simple one. Each day was comprised of an early morning activity (4:45 AM wake up) and an early evening activity. This left the heat of the afternoon (this was the summer in Africa of course) for education, naps, inter-camp travel or individual game reserve exploration.
The exception to this itinerary was our first full day. We had an early morning game drive in Mosi-Oa-Tunya National Park, followed by a trip to Victoria Falls and then another evening boat ride on the Zambezi River.
The main purpose of our stop to Zambia was to have the group acclimate to the time zone and check our gear before we headed to our main photographic destination, Botswana.
The Mosi-Oa-Tunya National Park was full of wildlife. However park management never stocked or reintroduced predators in this park due to its proximity to a large orphanage at the main gate to the park. The prime subjects for us were the White Rhino herd, 5 in total, that were recently reintroduced to the park.
It is hard to appreciate the majesty of these animals until you are up close and personal!
Unfortunately for the group we only located this lone male, the females were nowhere in site.
One of the challenges that the group faced photographing in Zambia and Botswana were the busy backgrounds. Many people associate photographing animals in Africa with the cleaner backgrounds common in Tanzania (Serengeti) and Kenya. Here are two examples of images doomed by background.
Both of the above pictures are nice "mementos" but not valuable for a portfolio. You might be able to get away with the Giraffe background but definitely not the Waterbuck's.
One surprisingly interesting subject were the Fireball Lilies that dotted the landscape of all the parks we visited. You don't normally think of flowers when you think of the Kalahari and other dry locales.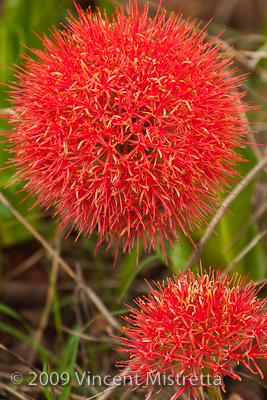 Stay tuned for Victoria Falls and the second Zambezi River trip! They will be posted soon.