I have wanted to make panoramas for a long time, I just never seemed to have the right opportunity. Then I read about a workshop being hosted by Denise Ippolito. She is someone I always wanted to meet as I have admired her work for some time. The workshop was co-hosted by Scott Vincent. Once I signed up for the workshop, I needed to do some more work on making panos. I knew it would require picking up some new gear ;-). In particular, I knew I needed a nodal plate. I have used Really Right Stuff plates and ball heads for years so I went to their site and read through their literature (you can also call or email them, they are very helpful). To save you some time, here is the link to the exact rig I purchased to make some of the images I created on Saturday night (link here).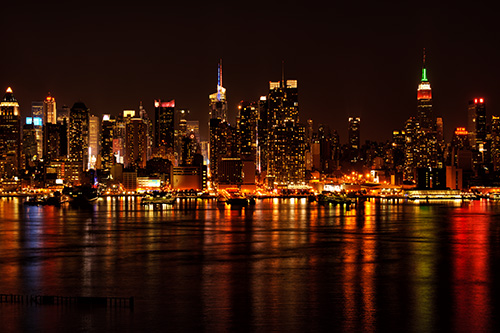 I'm really happy with most of the images I came away with especially since this was my first night time shoot and attempt to do panos. I will share with you shortly a 15 image HDR + Pano I created that came out remarkably well!
Scott and Denise were very helpful and the group of people that attended the workshop were very friendly. It was a nice size group of 5 shooters with 2 instructors. I had a great time and came away with what I think are some really good images. I also came away with a few things I did wrong that I need to correct. Alas, that just gives me a reason to try more evening and pano shots of Manhattan, maybe next time form downtown!
If you would like to see larger versions of the top 2 images, simply click on the galleries section of the website. They are located under Places.
Images captured with (top) Nikon D3x w/70-200 VR-II, (middle) D3x w/24-70 VR-II, (bottom) D700 w/200-400 VR-I on Lexar digital film.