Ok, I have been trying a lot of new setups to get the most of backyard bird photography. You might remember this post (Post Link) I wrote a few months ago about a feeder I was trying as a new piece in my backyard bird photography studio. It is called the Effortless Bird Feeder. I will be the first to attest that it is in fact effortless, for crows, mourning doves and squirrels to eat their hearts content. While at the start I really enjoyed using this new feeder, it just didn't cut the mustard. I then started playing with home made feeders and perches at the close of the winter and came up with a few designs I like (I will share these in future posts). The problem with my home made designs is that they are only suitable for short engagements. I really wanted something a little more permanent that would not only be a part of my photography but also a part of my love for wildlife and birds.
It was about this same time that I became familiar with a blog entitled The Zen Birdfeeder. This blog is written by a very nice lady named Nancy Castillo (we have only exchanged a few emails about birds and pictures, I have not actually met her). After reading a few of Nancy's blog posts, I added her blog to my RSS Reader. As time went on I happened to notice that Nancy owned and operated a store in Saratoga Springs (I have family in Saratoga Springs) that is a Wild Birds Unlimited franchise store. I had never heard of the franchise so thanks to Nancy's blog, I started to look through their product offerings. Much of what they offered seemed to be very good quality, at least from the brochures. And then it hit me. They have a pole system called the APS which stands for Advanced Pole System.
This pole system even had attachments for holding branches as perches. This would be perfect. I went to their website and looked up if there was a local franchise as I wanted to see the product before I purchased it. It ended up there was a franchise in Darien CT owned and operated by 2 very nice people, the husband and wife team of Pat and Joe Warren. After taking up about an hour of Joe's time, I decided to purchase my first pole system pictured below.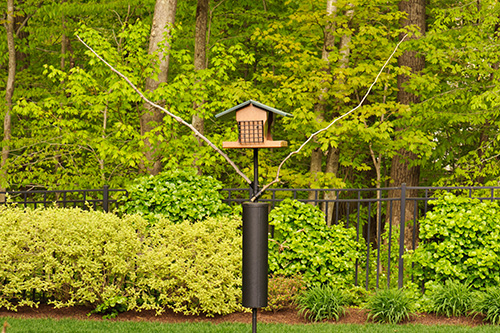 You may have noticed that I said, purchased my first pole system in the previous paragraph. Well, that wasn't by accident. After just the first week of having the Ranchette, I went back and purchased the double hanging feeder pole which is the first picture on the top of the page. Because of all this I am going to need to get a third pole soon, one that can hold the bird house that my wife is going to put me in. 🙂
As you can see in both pictures, the Warren's made sure I didn't leave their shop without the raccoon baffles they sell to keep the squirrels and raccoons from getting to the feeders. So far they have worked like a charm. I think you can see in both images the branch perch attachments that I mentioned earlier in this post. Those little attachments really hold onto the branches well.
You might notice I went to great lengths to introduce everyone in this story, not just my topic. I did that for one reason. The two vocations of wildlife/bird observation and photography have such great people involved that I wanted to give credit where credit was due. If it wasn't for Nancy's effort to share information with others, I would never have found WBU and in turn would have never met the Warren's or found the perfect product for my backyard bird studio!
So I will be posting some images over the coming days and weeks of birds visiting my new backyard bird photography studio. Stay tuned!