I have been looking forward to this product update ever since it was rumored that Nikon was working on it.

(Image courtesy of Nikon USA)
I finally had the opportunity this weekend to take the lens out and see what it can do. I am very impressed by how this lens feels in my hands. Attached to my D3x it feels great and carries well on the Vulture Strap A2 that I have also been testing.
I visited the Bristow Sanctuary in my town to see what fall images and possibly birds I could photograph.
As you can see from these images the lens is very sharp. Focus is extremely quick and the quality of the images out of the camera are sensational. I especially love the tree and leave reflections in the image above.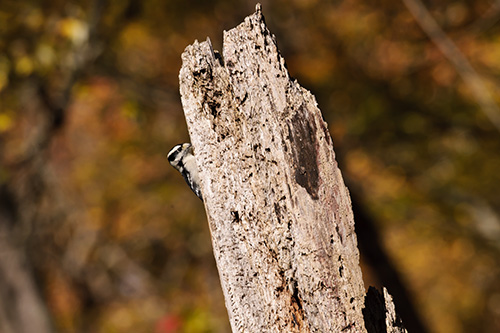 I also like the detail captured in the tree and Downy Woodpecker above.
Overall this lens is highly recommended and might displace some of the other lens in my back given the weight savings. This lens will also make a great big game lens for times I need to carry both a 600mmf/4 and the 80-400. The space and weight savings over a 200-400 are significant. All and all I am very happy with this purchase.