I had the chance to add a new subject to my image files this weekend. One of my favorite things to do in photography is create images of wildlife I have not had the pleasure of observing and shooting before.
As I mentioned the other day, I plan on exploring Greenwich Point Park this winter. I headed down there on Martin Luther King Monday at sunrise. As you drive down the main road, there is a pond on your left hand side as you pass the stone gates. This pond is part of a sanctuary. Due to recent snowfall, the walking path around this area is not plowed.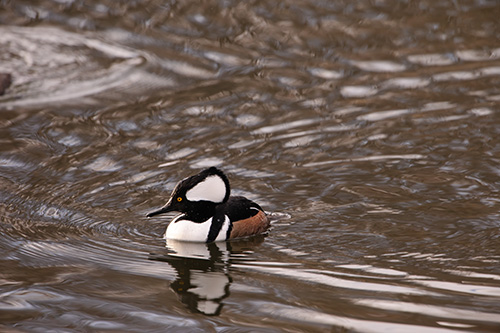 The night before I saw what I thought was a Hooded Merganser in the pond. However, the subject was back lit and the light was not worth making any clicks. I decided to return in the morning when I could position myself so the subject would be front lit. I had attempted to get out of the car and move around the subject so it would be front lit. However the Hooded Merganser would have none of that and quickly swam off when I got out of the car. So I needed to use my car as a blind. The hope was the park would be very quiet in the morning so I could use my truck as a blind. It worked well. This was not practical the previous eveing given the park traffic and position of the sun at sunset.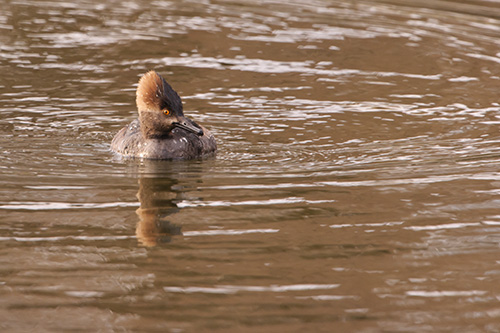 Caution: The park road is VERY NARROW and due to the snowfall shared by cars and walkers. This park is very heavily used and using your car as a blind is not always possible. It was 14 degrees fahrenheit this morning so I figured I would have little competition for the road from walkers/joggers!

The Blubb
Needing to use my truck as a blind gave me the opportunity to use a Christmas gift my wife purchased for me. The product is called the "Blubb" and is available through Art Morris' Birds As Art website. I plan on writing a review of the Blubb in a week or two.
The above Male Hooded Merganser was with 2 females. One of the females appeared to be a breeding female. While I added some files to my image library I did not get a shot I am really happy with, due mostly to the fact that the Mergansers wouldn't come close enough to the truck :-). Even with a 600mm f/4 and a 1.4 TC, I didn't have enough glass. Another reason is that the morning was overcast and I think the subject would pop if the light was better. I look forward to bringing you captures of this great subject as I head back to Greenwich Point Park.
Note: Picture of the Blubb courtesy of Birds As Art website!