First of all, I would like to wish my fellow Americans a Happy 4th of July! I also want to thank the countless numbers of Americans who have sacrificed so much so that my family and I could enjoy the freedoms that we do today.
Putting in your time is an important part of wildlife photography. I am often amazed by how many people think I can walk up to a wild animal and just take its picture! Sitting and waiting, watching and learning, sometimes for hours is a normal part of the job for me. Sometimes putting in my time pays huge dividends and other times it does not. Putting in my time this past weekend had some really big payoffs.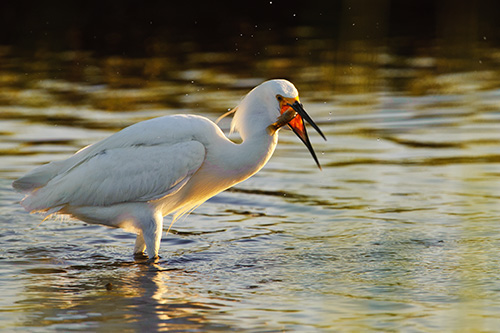 I am an incredibly poor sleeper. I only require about 6 hours sleep a day to function at 100%. Incredibly fortunate for someone who needs to rise at 4:30-5:00 everyday. High tide in the Hamptons was running early this weekend. I used my local knowledge of the area to concentrate on a strip of Dune Rd. where I knew I would find some tidal pools. I hit the area right on the mark.
These images were taken as the tide was just going out, trapping a large amount of bait fish in a tidal pool. Because I put in my time on a previous trip, I had a really good idea where to go. Within minutes, a large group of Snowy Egrets, at least 25, descended on the pool and provided me with the photographic equivalent of shooting fish in a barrel!
So next time you go out to find some wild creatures to photograph, make sure you come home with more than just images. Knowledge of your subjects is a powerful thing.
Images captured with a Nikon D700, 600 f/4 with 1.4 TCeII on Lexar Digital Film.